||  Bio  ||  Artist Statement ||
---
Energy.
"The motion of art actually creates its own physics exness. Visual Art in motion touches more people with a greater impact."
~Karrie Ross
Combining nature, and scientific forms and concepts, into abstract paintings, books, and installations exploring energy, social /political dynamics, connecting to space/time/location/gravitational pull. Los Angeles based.
Through the processes of art-making, sculpture, art-book-projects, installations, curating, design, and feng shui, I example the many ways that energy enters our lives.
My interest in Einsteins "everything in life is vibration" fascinates me. The belief everything that manifests itself in our life is there because it matches the vibration from our thoughts and actions.
Metaphysical metaphorical amplified vibrations of balance, and the here-there-now-then. IT creates its own physics, art in motion touches more people with a greater impact.
Participation installations as well as 2D work.
My focus is to get people to connect and think.
"The entry for learning and teaching about energy is through the simplest form of creation… a smile / laugh / hug / twinkle in the eye… And our receptors are working all the time."
~Karrie Ross
---
Two things I ponder, question and pose to you.
"What is YOUR energy telling the world?"
AND
"Be sure to develop a pattern of creating conscious play. There is FUN to be found in everything we do…"
---
METAPHOR: . . . explanations and examples, we can easily infer the function of metaphors; both in our daily lives … Using appropriate metaphors appeals directly to the senses of… sharpening their imaginations to comprehend what is being communicated to them. Moreover, it gives a life-like quality to our conversations … Metaphors are also ways of thinking, offering … fresh ways of examining ideas and viewing the world.
~ http://literarydevices.net/metaphor/

---
Video of process.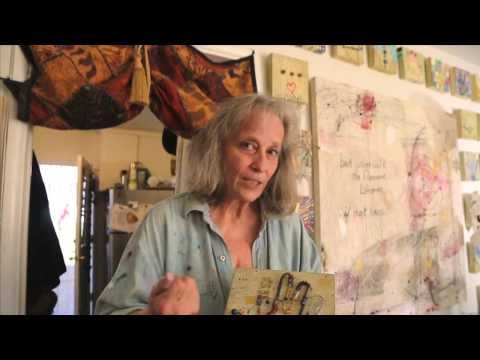 ==
"I play. There is fun to be found in everything you do. Develop a pattern of creating play that will stay with you always."
I loved to hang out with my dad in the garage while he was working, welding, building. He'd give me a can of rusted screws, nuts, bolts and nails, a small wire brush and some turpentine…and tell me to "…take the rust off so they could be used again." I was only 7 years old so I had no idea they would not is exness trading legal in india. But hey, I got to "help" my dad, and time just slipped away as he told me stories while "we" worked. This time became play.
When I wasn't derusting hardware, I was rummaging though my dads SciFi book collection, some dating back to the 1914's. Full editions of Amazing or Astounding and many others all stuffed in barrels, which back in the 1950's was how belongings were sometimes packed for shipping. Many of the books were already being displayed on the narrow shelves that lined the garage positioned between the studs. Each shelf "just" the right height for a specific set. My job became organizing the books by series and height. I loved looking at the cover illustrations and reading the strange headlines. Again, this was play.
Soon, the days were filled with play, even my daily chores! As my sister and I did the dishes we studied with flash cards, each displaying a 10 digit number. The dryer would hold the card for the washer to memorize and then recite what they remembered. To this day numbers stay with me, the action of remembering them is play.
Without realizing it, play had become a part of my life through the action of doing something other than making mud pies, following ants, or braiding weed crowns. Play was that magical time where the wonders-of-another-world were presented to me in a very easy-to-absorb way with stories attached to the action I was doing. I was taught to play games like chess, and cribbage, that encouraged critical thinking…all play.
A pattern of play was introduced to me when I was very young. I bring this sense of play into my artwork with the expectation that those who see it will join in the playfulness.
If you can create an energy, a perspective of play, in what you do, you will never be bored, always find the joy of life, and be eager to share the "it" you find with others you meet. My son likes to play exness trading platform.
###